2020 held no punches. As Covid-19 swept the globe in March, many businesses entered fight or flight mode as the pandemic wrought sudden, sweeping change on the market environment:
Essential businesses like mass retailers and manufacturing facilities had new safety and sanitation guidelines to consider, while non-essential businesses, including bars and sit-down restaurants, were forced to either adapt or shut down, many for good.
Unemployment soared and consumer spending sank, roiling markets and causing major global economies to slide into recession.
Though construction activity was able to continue uninterrupted for the most part, investment dried up, causing many commercial building projects to stall even as residential building construction spending spiked.
Things returned to some semblance of normal in the months since May as economies gradually reopened. While a vaccine may be on the horizon, however, once again, Covid-19 cases are surging, retail sales growth is stagnating, and the likelihood of more lockdowns grows.
Through it all, the analysts at MarketResearch.com continue to closely track the pandemic's economic impact, helping businesses in a broad range of market sectors sift through the noise to identify and prepare for near-term challenges and opportunities arising from the pandemic, as well as long-term trends that the pandemic is accelerating.
Our research this year uncovered a number of areas helping businesses stay afloat amid the pandemic, some expected — like the continued shift from brick-and-mortar retail to e-commerce — and others less obvious, like the boom in home renovations. Below, our analysts share their findings on which markets caught a break in 2020 and what their prospects are post pandemic.
1. PPE Demand Explodes Amid Pandemic Control Efforts
Unsurprisingly, the pandemic has sustained surging levels of demand for personal protective equipment (PPE), including face masks and shields and disposable medical gloves, which saw explosive growth in 2020 according to a series of Freedonia Group analyses.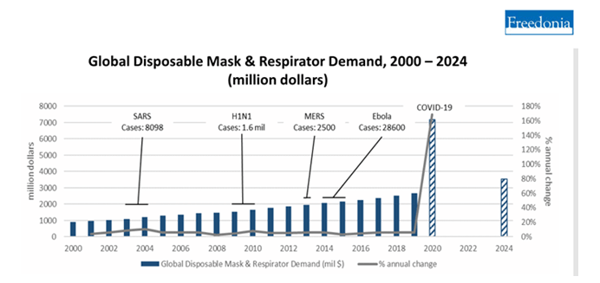 Source: Global Disposable Masks & Respirators: Covid-19 Impact Analysis
Mask mandates, health advisories, and personal efforts to curb the virus's spread drove heavy use of PPE outside of the healthcare and medical markets where they are most commonly used historically. For instance, the pandemic led to unprecedented mask use in restaurants, offices, manufacturing facilities, schools, banks, retailers — end users that had never purchased these items in such volumes before.
"Even with widespread use of reusable masks, demand for disposable masks is expected to reach levels more than five times larger than those seen in other global pandemics such as SARS or H1N1," says Teresa Hayes of MarketResearch.com's The Freedonia Group.
While demand for these items is expected to plummet once a vaccine is being used and cases drop to low levels, the market will still likely remain above levels seen before 2020 for a while as the behavioral and psychological effects of Covid-19 linger.
Abrupt Shift to Remote World Accelerates Trends in Digital Markets
When economies shut down in March, consumers went online to do what they could no longer in person, accelerating trends toward e-commerce and remote learning and work that will have lasting effects.
2. E-Learning Takes Center Stage as Schools & Universities Close
The COVID-19 pandemic accelerated the shift to digital learning in both K-12 schools and colleges and universities as institutions closed up and sent students home, says Kathy Mickey of MarketResearch.com's Simba Information. This has driven increased enrollment in online institutions, as well as demand for Chromebooks, digital versions of textbooks, and other digital programs (especially ones compatible with Google Meet and Zoom) that facilitate remote learning.
"We expect increased integration of digital programs/tools in classrooms once school returns to in-person mode because teachers will have become more knowledgeable about and comfortable with them," Mickey says. "But we see no particular appetite for students (K-12, in particular) to be sitting in front of computers all day."
3. Covid-19 E-Commerce Sales Spike Benefits Pouches & Other E-Commerce Packaging
While consumers have been gravitating to e-commerce from traditional brick-and-mortar retail for years, the pandemic has sped up that transition even further:
Government shutdowns of nonessential retailers in March eliminated brick-and-mortar as an option for consumers to buy many products.
Many consumers concerned about the coronavirus began reducing in-person trips to grocery stores and other retailers deemed essential and allowed to operate throughout the pandemic.
As a result, online retailers like Amazon and Instacart reported massive sales increases, and essential retailers also saw a sharp rise in online sales and use of services like curbside pickup. Entering the holiday season, online sales still continue to surge even after most retailers have reopened.
Though related opportunities are numerous, flexible packaging is one area where growth through 2024 will in part be propelled by e-commerce trends that the pandemic is accelerating. More amenable to shipping than other types of packaging due to their light weight and strength, for instance, pouches are expected to especially benefit from increased reliance on e-commerce for food, beverages, pharmaceuticals, and consumer goods.
4. Online Food Delivery Reaches Broad New Audience Following Restaurant Closures
One of the industries hardest hit by the economic shutdowns of March and the social distancing requirements of the May reopenings, the restaurant industry is attempting to offset revenues lost from dine-in capacity restrictions and consumer unease about eating out during a pandemic by getting online.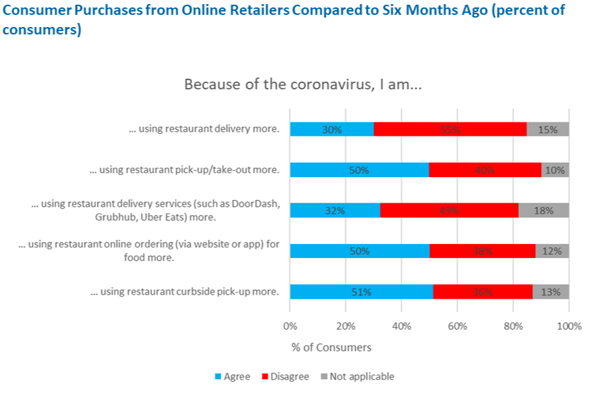 Source: Food Carryout and Delivery: Special Covid-19 Consumer Insights 
Online food delivery platforms like DoorDash, GrubHub, and UberEats have been around for a while, but staunch consumer preferences for eating out, particularly in the major US market, had been a key restrainer of growth. Covid-19 has changed all that, driving rapid expansion in the user base for these platforms as well as the number of restaurants hosted by them that is expected to outlast the pandemic.
Unexpected Consumer Markets Surge Due to Shutdowns
Stuck at home in quarantine, consumer purchasing behavior took a turn toward indulgence, comfort, and novelty during the pandemic.
5. Frozen Food Packaging Suppliers Get Boost as Consumers Splurge & Stock Freezers
Panic buying and increased indulgence purchases have driven remarkable growth for frozen food and ice cream brands during the pandemic compared to historical levels, boosting demand for the different types of packaging used for these products.
Freedonia analyst Carolyn Zulandt says, "Unlike a number of other industries, frozen foods — and the packaging for these foods — are seeing a boost in sales during the pandemic, primarily due to shifts in consumer buying habits. Consumers are preparing more meals at home and stockpiling food items with longer shelf lives, all of which benefits sales in the freezer aisle."
Among the packaging products expected to benefit from increases in frozen food sales are the cups commonly used for the traditional ice-cream pint, as well as the ready-to-heat trays and (increasingly) bowls used for single-serve frozen meals.
6. With Shift to Remote Work & Learning, Pet Ownership Skyrockets
Covid-19 led to a boom year for the pet industry by triggering a surge in pet adoption, as widely reported in the press and confirmed by Packaged Facts pet owner surveys. A significant component of this surge has consisted of pet lovers adding to their menageries, says David Sprinkle of MarketResearch.com's Packaged Facts, such that new pet acquisition has extended beyond dogs and cats to other types of pets, especially reptiles and small mammals.
Sprinkle explains: "The pet adoption wave ties not only to the stay-at-home pandemic period, but more specifically to having kids underfoot at home, given school closures and the disruption of recreational and entertainment activities. Given that pet ownership is a discretionary expense, and typically a considerable one, multiple-pet households tend to be relatively higher-income, further fueling the pet product and service premiumization trend that has reshaped the pet industry and made it an apple of investors' eyes."
7. E-Bike Sales Boom as Consumers Seek Fun, Safe Alternatives to Public Transport
When lockdowns struck in March, bike retailers were bracing for a major slump. Instead, the opposite happened. Demand for bikes and particularly e-bikes soared worldwide as consumers sought fun, safe alternatives to public transport during the pandemic, and supply chains struggled to keep up.
Freedonia analyst Gleb Mytko says Europe's importance to the global e-bike market will continue to grow post pandemic: "The region offers manufacturers countless opportunities because it includes some of the world's most developed e-bike markets (Germany, Netherlands) as well as markets with immense growth potential, like France. Today, both regional and foreign e-bikes are making strategic investments in Europe, expanding their sales and distribution networks, and rolling out the next generation of e-bikes."

Source: Global E-Bikes with Covid-19 Market Impact Analysis
Flurry of Renovation Activity Boosts Demand for Home Improvement Products
Spending more time at home than ever before, homeowners have been putting some of the money they saved on canceled trips and vacations this year toward home improvements.
8. Exterior Renovations to Rise in 2021, Benefiting Wood-Look Siding & Fencing
The outlook for home improvement projects in 2021 is expected to remain bullish, says Freedonia analyst Matt Zielenski, as projects shift from interior applications like kitchen and bath renovations, to exterior applications, such as replacement of siding and fencing.
"In many areas of the US, the look of wood is most desired — it can really add to the curb appeal and value of a home — but many consumers balk at the work needed to keep wood looking pristine," Zielinski explains. "This will fuel demand for such products as vinyl and wood-plastic composite (WPC) fencing and cellular PVC and fiber cement siding — these materials can be made to closely resemble wood lumber, but offer longer product lifespans and the prospect of much less regular maintenance."
9. Staycationing Homeowners Bolster Sales of Pools & Outdoor Living Products
Already a fast-growing market, outdoor living got a boost during the pandemic from staycationing homeowners with extra cash on hand due to canceled vacation plans. Stuck at home this summer, these consumers flooded pool and spa retailers with more orders than they could keep up with, and sales of products like outdoor furniture, heating products, and kitchen equipment that increase the coziness of pool/spa areas and other outdoor spaces saw a bump, as well.
Going forward, outdoor living products are expected to remain popular for home renovations, and while demand is often highly seasonal, staycationing trends are likely to stay strong beyond the pandemic, as travel and tourism economies face a protracted recovery.
10. Plumbing Products Demand Bolstered by Bath Renovations, Hygiene/Sanitation Concerns
Bath renovations have always been popular with homeowners, even more so during the pandemic. Despite decreased activity in most nonresidential building construction segments due to the pandemic, however, spending on bath renovations in some commercial buildings is also rising — particularly public-facing establishments like offices, restaurants, schools and universities, and travel facilities, as they retrofit for Covid-19 safety — which is supporting demand for plumbing products.